Kubernetes Access Control & Security
Control Who Can
Do What,
Where Across Your Kubernetes Applications
Empower your developers to own their Kubernetes applications, without losing sleep.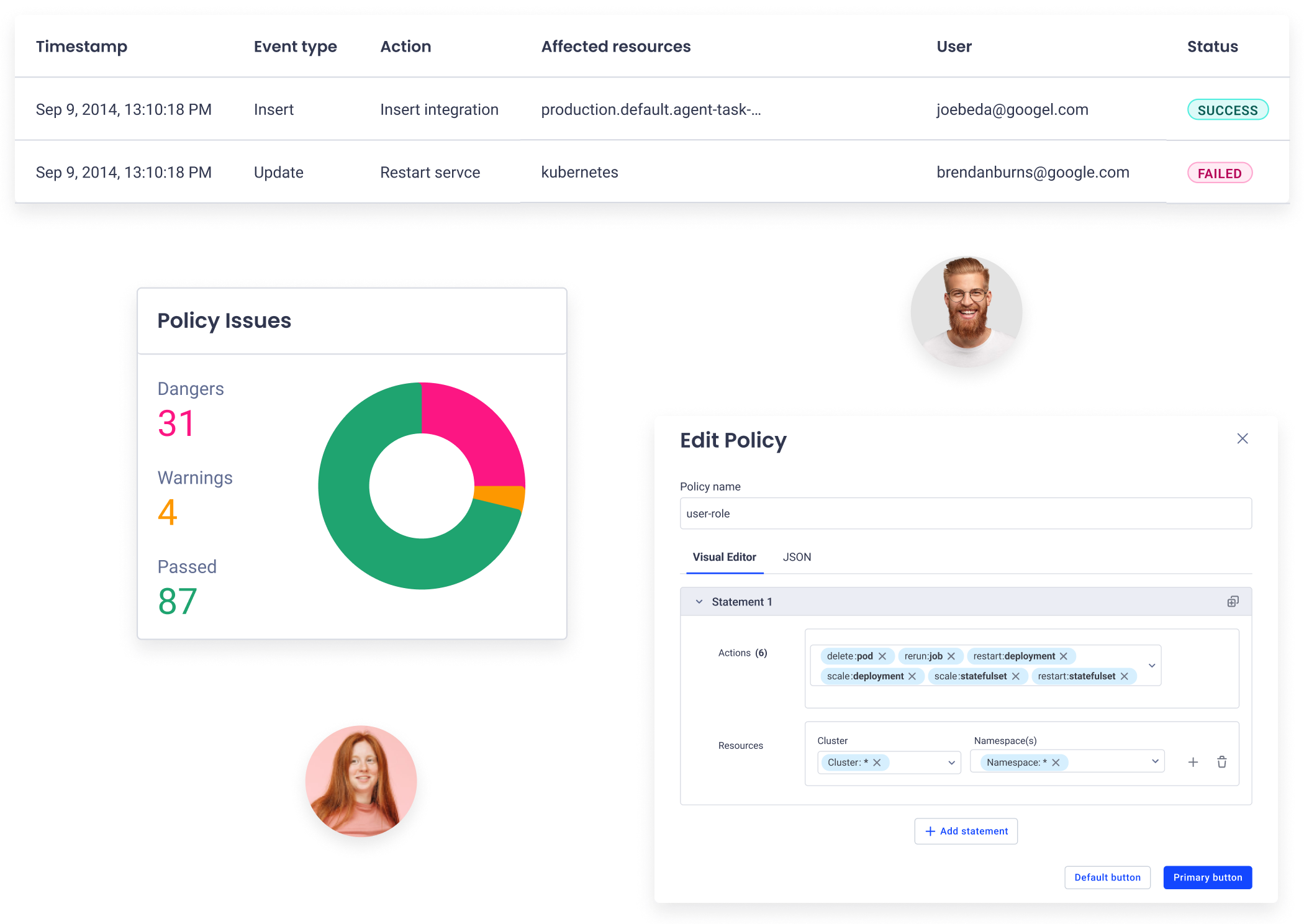 Guardrails vs. Permissions:
How can you empower your developers and minimize your burden, while adhering to security standards and maintaining control of your Kubernetes environment? With Komodor, you can democratize Kubernetes without the risk of chaos. Break free from these endless cycles by granting minimal, scoped developer access while maintaining visibility and control over actions taken.
"With Komodor's new capabilities and auditable actions, we can empower our developers and enable them to operate K8s independently, increasing end-to-end ownership, system security, and velocity"
We use Komodor to allow developers to interact with their Kubernetes clusters, get alerts, and see what is going on without giving them direct access to Kubernetes.
Every time we have needed to refer to the audit log to see what has changed, it has been very detailed. It is exactly what we need and it works very well.
Learn more
We were apprehensive about integrating Komodor into our fully GitOps environment. However, with Koamodor's robust RBAC we finely control actions RBAC in prod & dev, and  remain agile yet secure, without sleepless nights.
Governance Tailored to
Enterprise Demands
Why
Komodor?
Radically improve governance by establishing Komodor as the only Kubernetes gateway for your developers
Reduce Kubectl Usage
Developers can access their clusters and manage their resources with Komodor's intuitive GUI
Exec Into a Pod
When all else fails, enable your developers to SSH, with precise guardrails
Protect Your Prod Env
Grant developers with minimal access customized per environment
Meet Enterprise Needs
Protect sensitive data and easily adhere to policies, reviews and regulations
Minimize Manual Labor
Enjoy seamless SSO integration, easy access to audit trails and detailed RBAC without breaking a sweat