Kubernetes Troubleshooting
Turn Troubleshooting
Chaos into Clarity
Empower your developers to confidently troubleshoot K8s-related incidents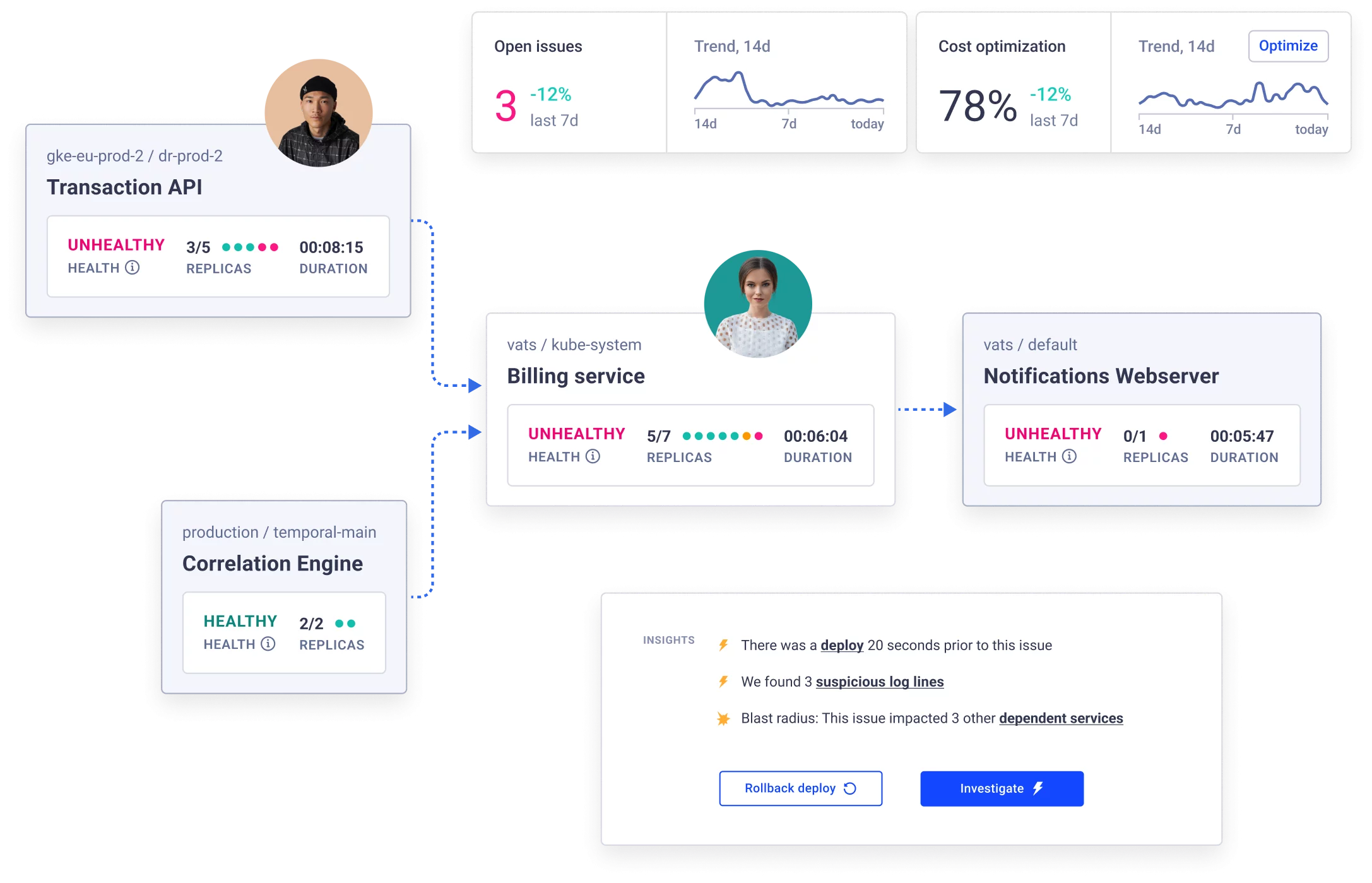 Bridging the Application-Infrastructure Kubernetes Gap
In today's ecosystem, there are countless tools available for observability and monitoring. However, these tools fail to effectively speak developer language. This results in slowed down, dependent developers, and overwhelmed infrastructure teams buried in tickets. With Komodor's intelligent & opinionated dev-first solution, you can turn hours of troubleshooting into minutes. Easily detect, investigate and remediate incidents so you can turn your focus back to driving innovation at scale.
Komodor has saved a significant amount of time on troubleshooting. In the past, if there was an issue, we would have to dive through logs and look at five or six different tools to try to pinpoint the problem. This could take hours, but with Komodor, it now takes minutes. Overall, Komodor has had a positive impact on our day-to-day operations by freeing up developers and saving time on troubleshooting.
Learn more
Pretty much right when we went live and presented it to the users, they were happy immediately. And every time we've shown it a screenshot, people always say, "Wow. What tool is that and how do I get into it?".
It has been nothing but a delight for all of our engineers from day one.
Learn more
We were able to finally gain visibility into our nodes, and use our engineering resources properly, instead of wasting so much time on troubleshooting
Your Intelligent Troubleshooting
Experience, Step by Step
Auto Detect
Emerging Issues Before They Spread Out
Identify Kubernetes anomalies, failed deploys, misconfigurations, availability issues and other health concerns with Komodor's out-of-the-box monitors
Determine the health status of your applications and services at a glance
Stay ahead of incidents - even without going into Komodor
Enrich your alerts with Komodor's data and context
Optimize alerts & minimize noise by customizing Komodor's smart monitors
Reduce mean time to detect, minimizing incidents' impact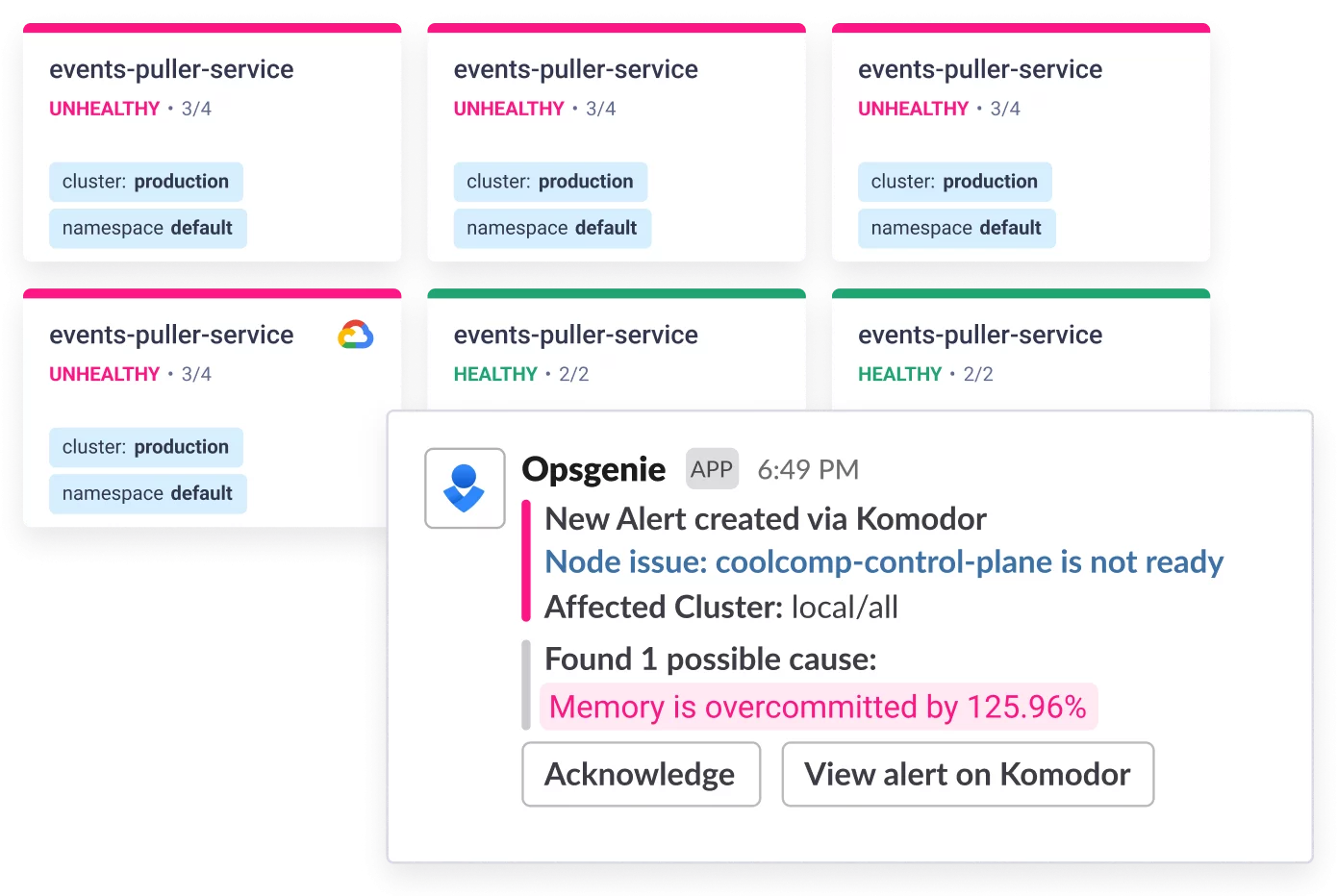 Triage
Stay Calm - Even If It's 2AM or You Don't Know Where to Start
Understand what happened and asses severity & urgency
Immediately determine if it's an application or an infrastructure issue
Review similar incidents and historical data on a unified timeline 
Understand correlated events towards potential root cause & impact
Make informed decisions on the next next steps: continue investigation, escalate, or disregard the incident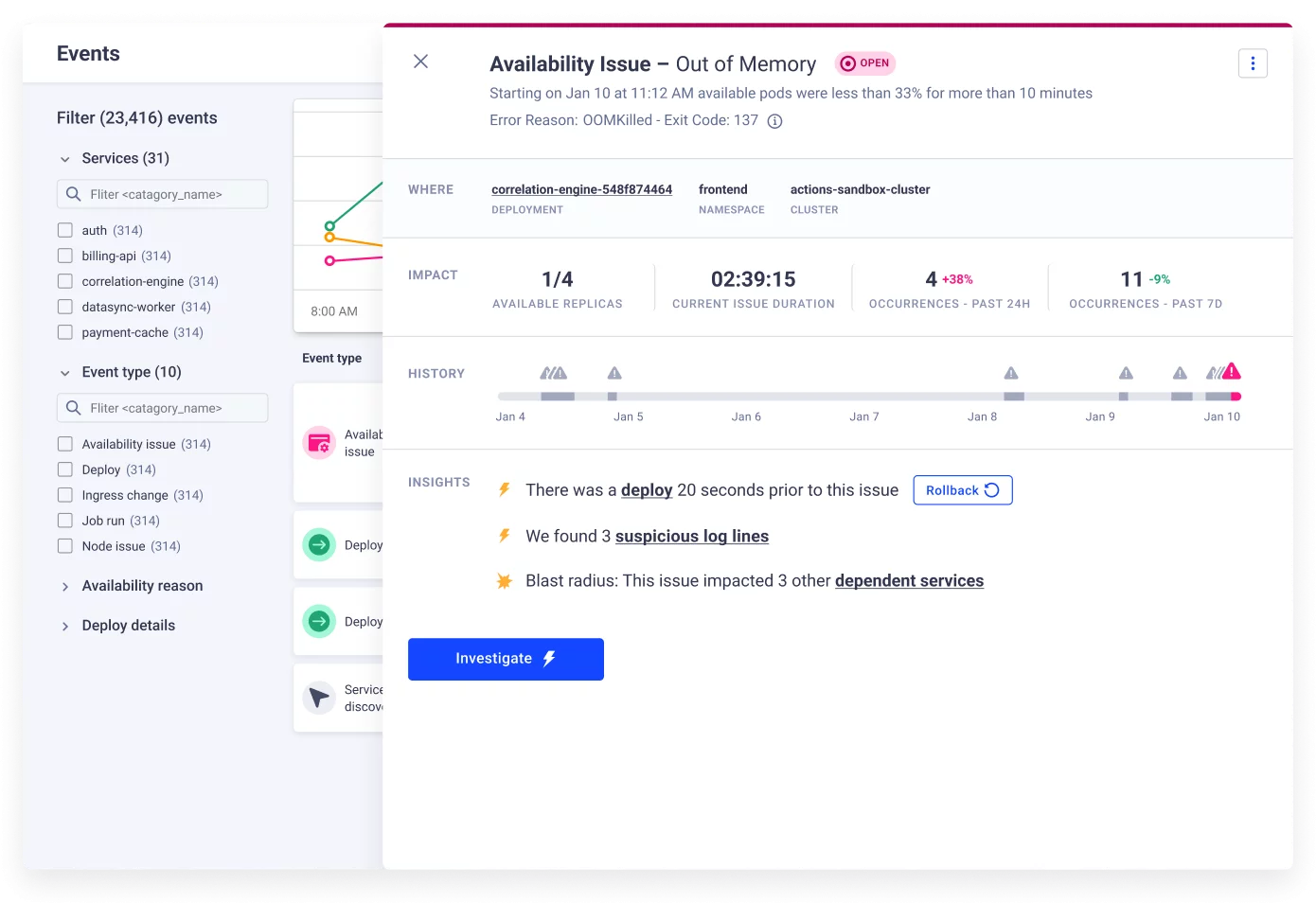 Map Impact
& Dependencies with a Real-Time Visual Map
Make sense of the countless moving pieces and how they all fit together
Understand the dependencies between services & resources
Identify the wider impact of a service going down & avoid blindspots
Shift Kubernetes left, enabling your developers to own the process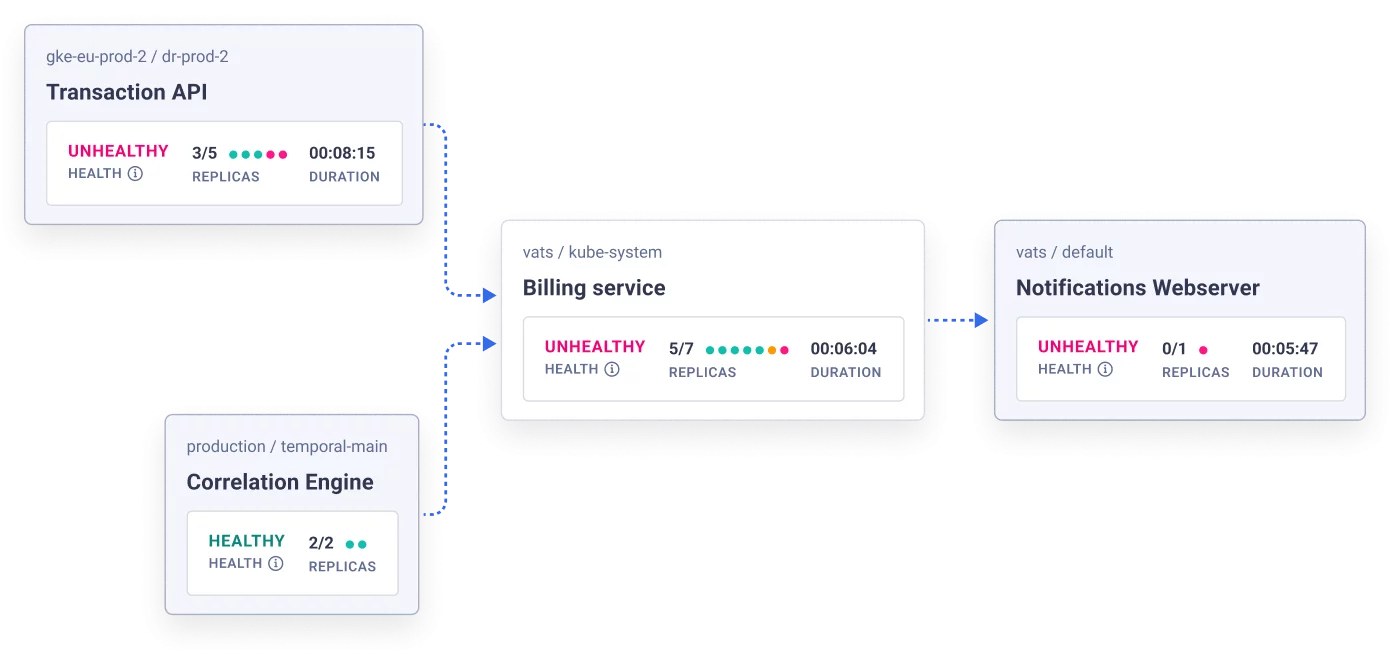 Investigate
With Komodor's Step-by-Step Guidance
Eliminate guesswork and streamline investigation with Komodor's intelligent, auto-generated steps
Better understand the specific error at hand
Review relevant details & insights provided per step
Verify correlated deploys with a diff view capturing configuration and code changes
Review unhealthy pod events, related logs & other data fetched by Komodor to pinpoint root cause
Locate correlated node events that you can escalate to your operations team for further assistance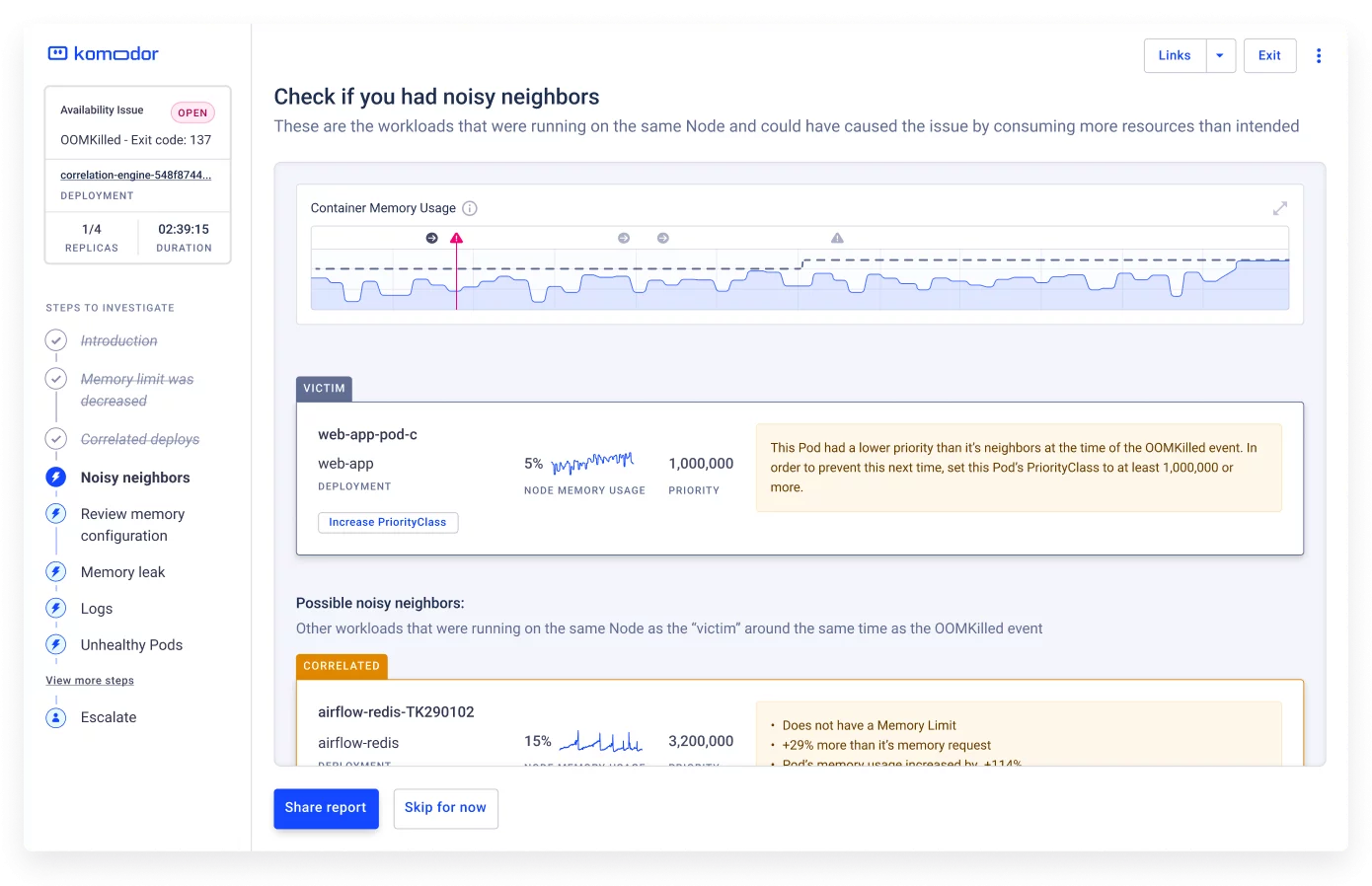 Remediate
Apply Komodor's Recommendations Within Minutes
Leverage curated remediation flows to apply straightforward instructions directly within the Komodor platform
Solve issues efficiently even without extensive Kubernetes expertise
Quickly recover by rolling back changes or applying a hot-fix
Resolve problems independently, without creating support tickets
When necessary, escalate issues to your infra team, providing valuable context to continue where you left off
Acquire valuable Kubernetes knowledge to avoid future incidents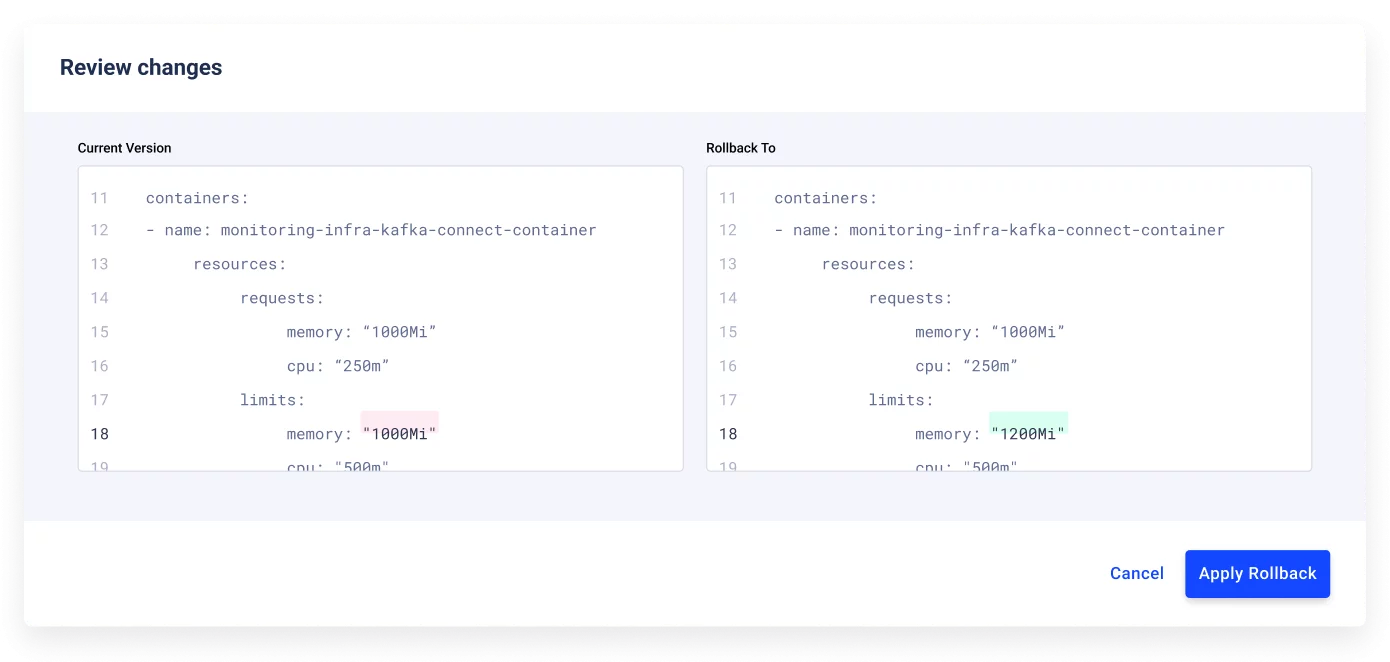 Why
Komodor?
Innovate Faster
Expedite K8s troubleshooting & avoid devops bottlenecks
K8s for Humans
Complex Kubernetes errors translated into dev-related terms
No Context Switch
A single unified troubleshooting solution to replace 5-7 different tools
Baked-in Expertise
Everything tracked and analyzed to find patterns and form an opinion
Shifting Left
Independently solve 80% of the issues and own what you've built