Empower Your Developers


to Operate Kubernetes Applications

Meet your Kubernetes needs & move faster with Komodor's intuitive GUI, unique visibility & automation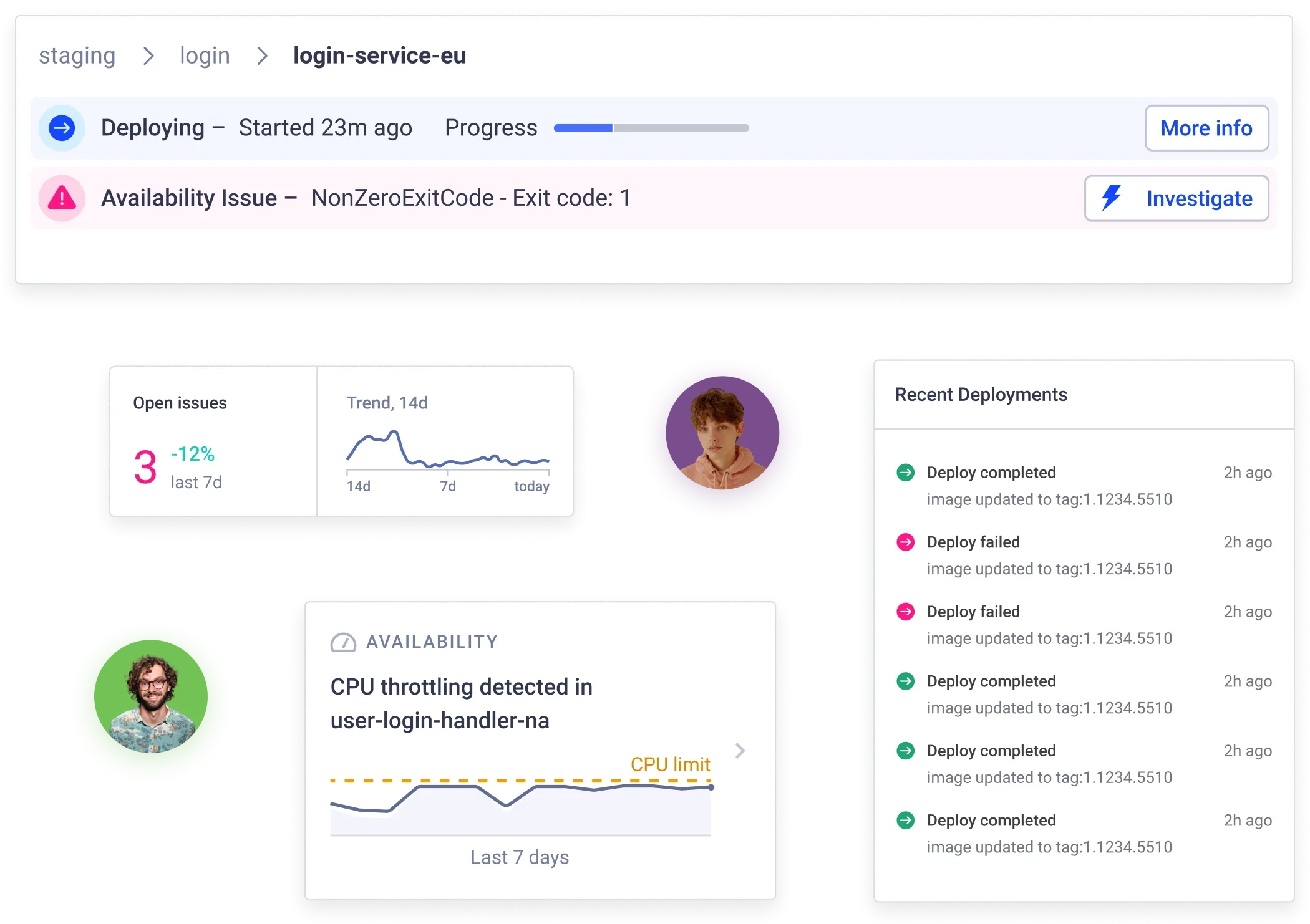 Daily Kubernetes Operations, Simplified.
It's time to transform your Kubernetes application operations! With Komodor, developers can finally own their applications end-to-end and develop and deploy as fast as they'd like. Actionable insights to improve reliability, enforce best-practices, and optimize costs. No more waiting on other teams - All the data developers need, no redundant data from services they don't own.
Pretty much right when we went live and presented it to the users, they were happy immediately. And every time we've shown it a screenshot, people always say, "Wow. What tool is that and how do I get into it?" It has been nothing but a delight for all of our engineers from day one
Learn more
Komodor combined five or six observability tools into one, which was a big selling point for us. It replaced our need for a separate tool for logs, metrics, and alerts. Komodor has had the biggest impact on our developers: it has given them the ability that they did not have before.
Learn more
We were really early to adopt Kubernetes for obvious reasons, but it wasn't until we introduced Komodor to our dev team that we were finally able to enjoy the promised benefits of K8s.
Capture Application Highlights

& Insights Across Clusters
Zoom In on What Matters
Single Pane of Glass to Understand Your Next Steps
Maximize situational awareness with easy app management access
Narrow down your view to application issues that require your attention
Unlock actionable performance & costs insights
Track trends - Is your efficiency getting better or worse?
Assess risks and opportunities, such as your best practices compliance
Filter out overwhelming clusters and avoid the data overload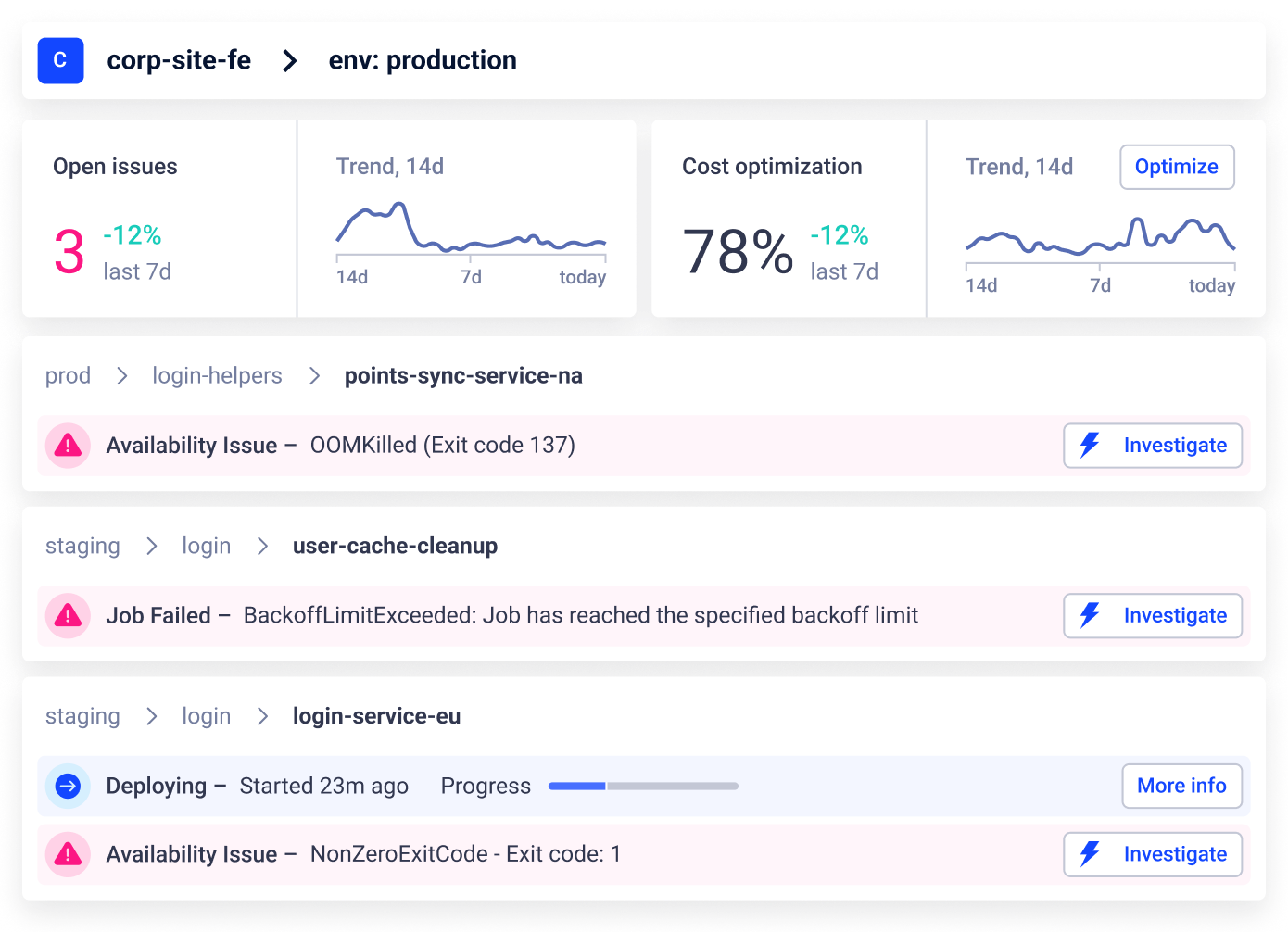 Visualize Events & Trends
with Komodor's Unique Change Intelligence
Understand your service status & configuration, real-time and historical
Go back in time to analyze deleted resources & past deployments
Connect your existing stack to view custom events
Capture all relevant changes & events on a centralized view & timeline
Avoid manually correlating different events using multiple tools
Identify trends in resource allocation & consumption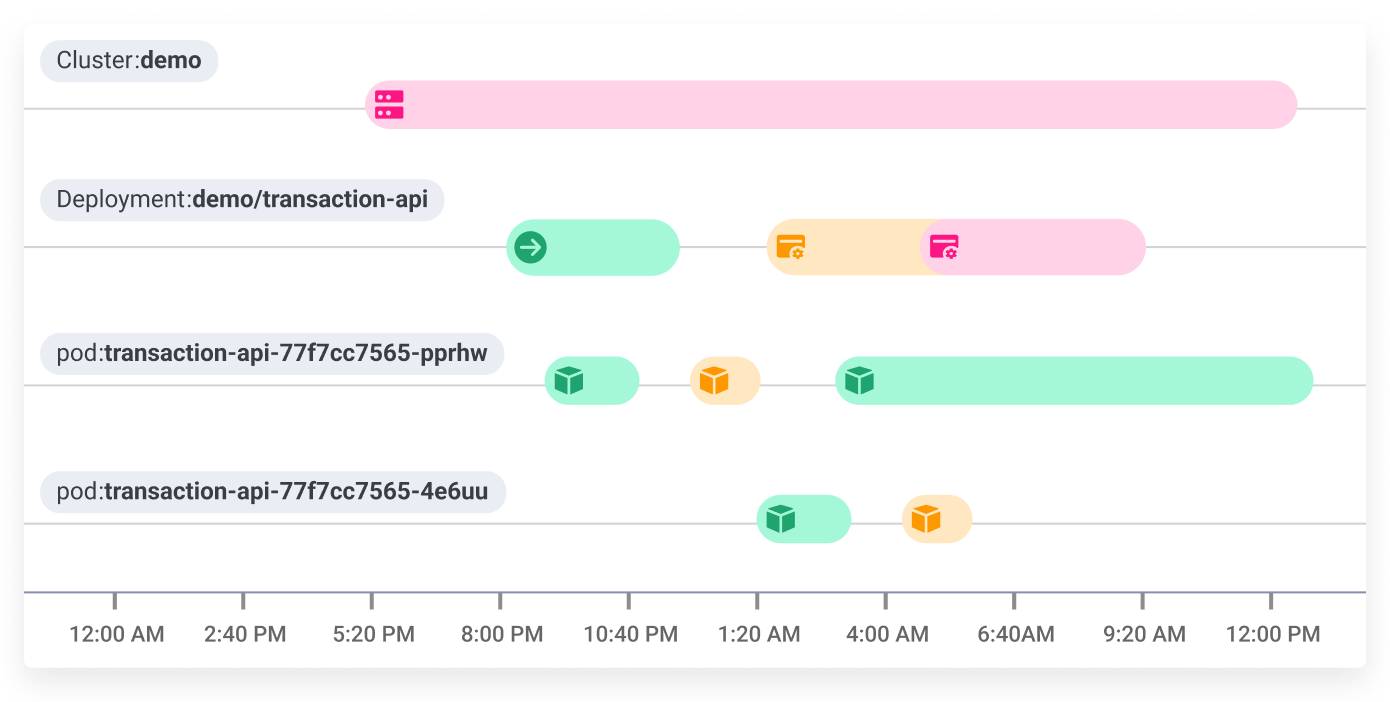 1 Click to Browse
Even if You're Just Getting Started with Kubernetes
Navigate your resources without learning complex kubectl commands
Immediately understand your application's status & health
Gather live, real-time data & log streams, enriched with historical context
Dive deep into a resource to gather additional details, logs & metrics
Search, filter, categorize and label to simplify resource access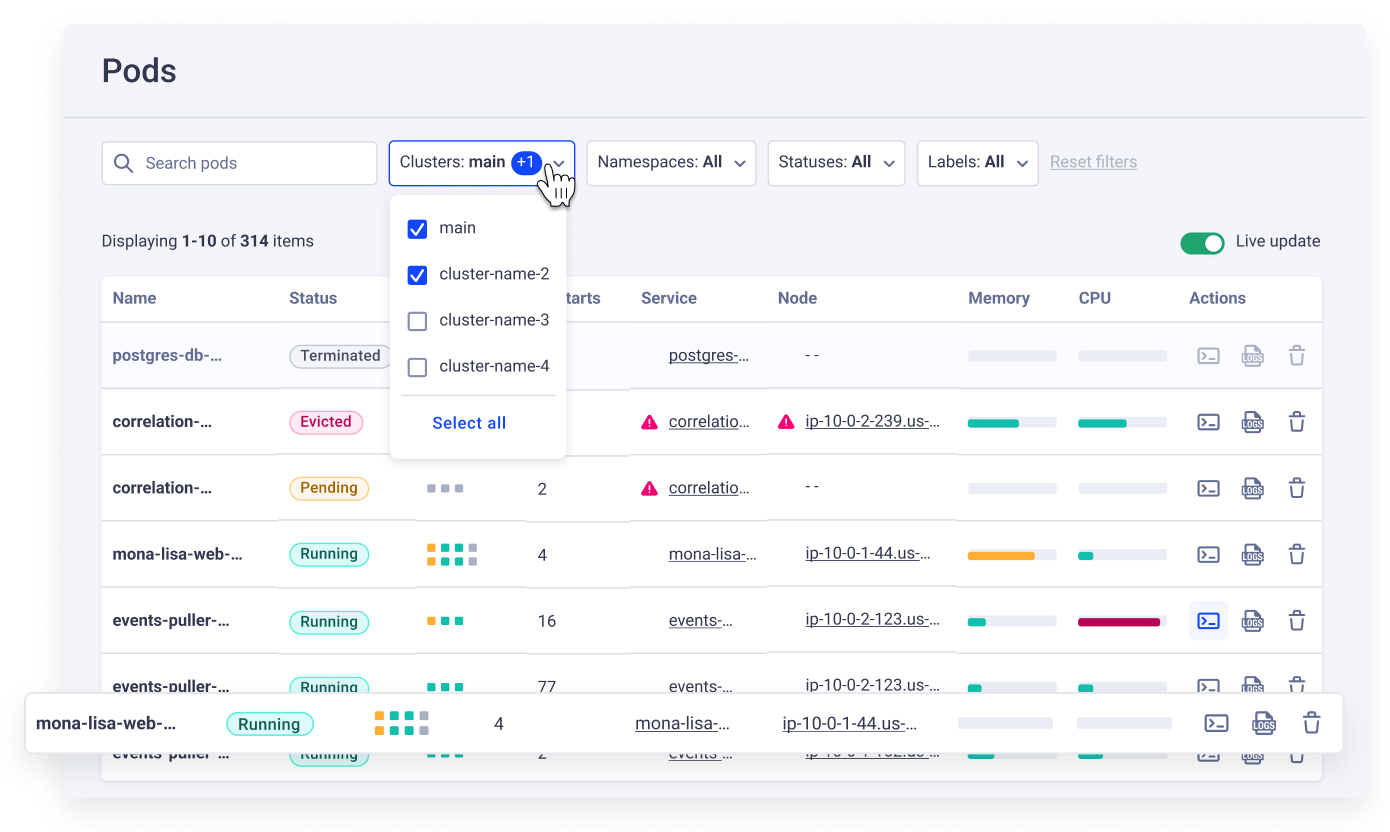 2 Clicks to Act
Even If You Don't Remember Any Kubectl Commands
Execute actions against your resource in-platform - or delete them
Set up port forwarding or initiate a pod shell
Close the loop of your workflows directly within Komodor
Remain accountable for your actions with a detailed audit trail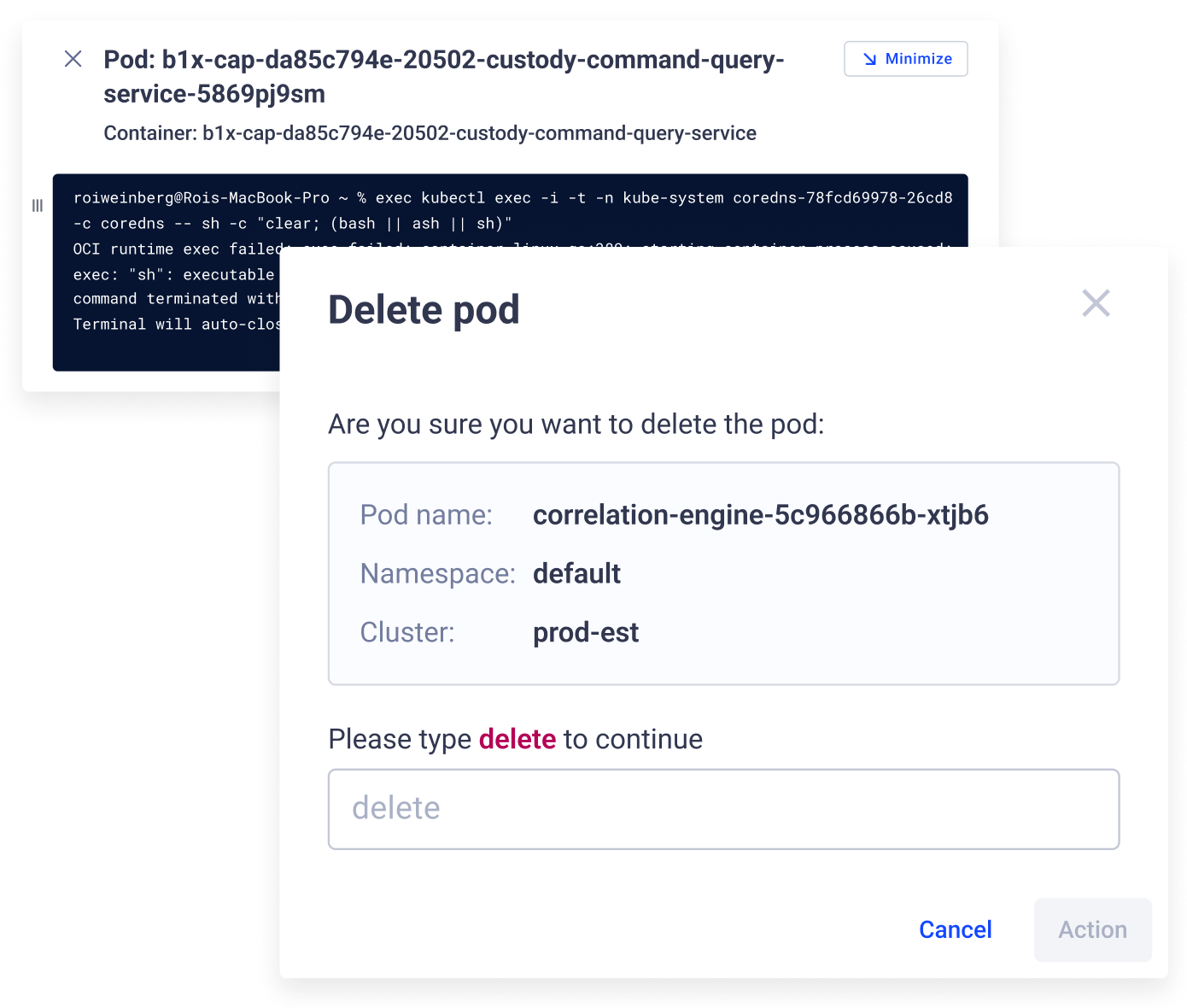 Unique

Visibility into

Everything K8s, for:
Unique

Visibility into

Everything K8s, for

Developers:
Humans
Developers
Infrastructure Teams
Multi-cluster
Manage apps through a single pane of glass, regardless of the number of clusters
Time-Travel
Access historical data of past events and deleted pods
Change Intelligence
Overlay node events in the same timeline as pod and deployment events
Unified Solution
Quickly inspect or dive deep - without hopping between tools
Zero Training Needed
Start using Komodor's intuitive GUI immediately, no "How To" needed
No K8s Expertise Required
Gain required visibility, even if you don't know much about your deploys & logging  
Developer Experience
Built by developers, for developers.
Zoom in on your application
No Bottlenecks
Move fast, independently & confidently, without waiting on ops
Limit Kubernetes Access
Enable your developers to interact with clusters without direct access to Kubernetes
Operate Your Helm Charts
View status for all helm charts installed, move between them or dive deep
Manage Your CRDs
View all Custom Resource Definitions and their related resources
Get Work Done
Empower your developers. Focus on your projects instead of their requests