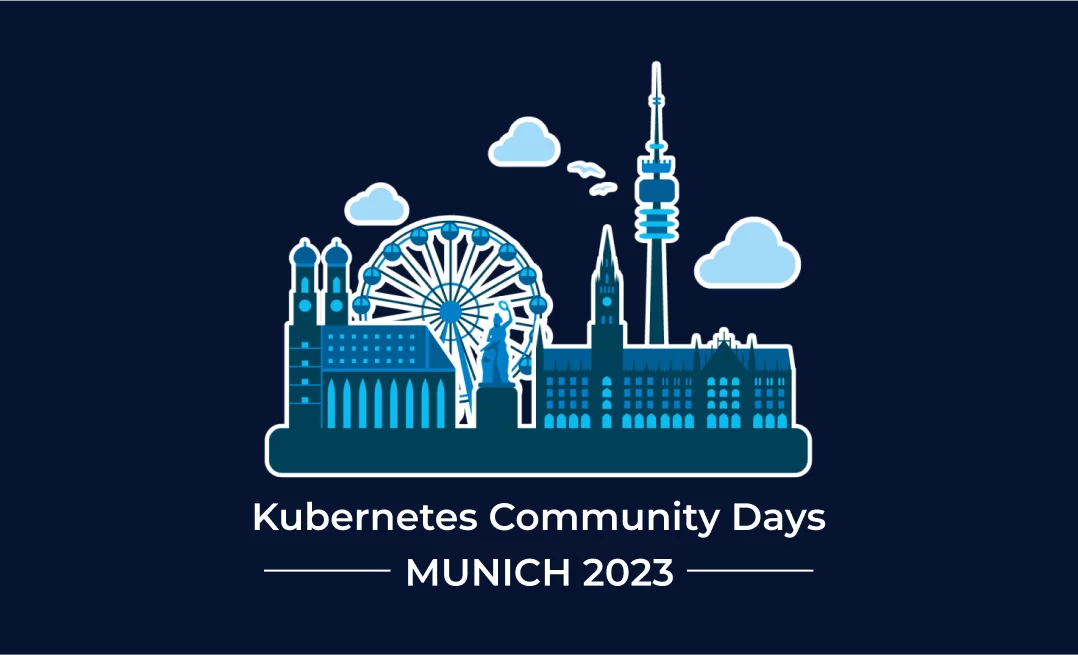 A couple of weeks ago I had the absolute joy of attending KCD Munich for the first time, with my friend and colleague Guy Menahem (whom some of you know simply as The Good Guy on Twitter and YouTube).
Besides rooting for Guy and his co-speaker, Arsh Sharma of Okteto, during their session on Backstage.io and IDPs, I enjoyed being untethered from 'booth duty' and free to engage with all the beautiful human beings that gathered together for this Kubetastic event!
Guy and I had some fascinating conversations with folks from the local community and from all over Europe. We had a lot of fun and also learned a lot about the current challenges of Kubernetes adoption at scale, industry trends, future predictions, and exciting cloud-native projects.
Check out some of the conversations we had below.
Max Körbächer from LiquidReply
"F*ck up stories are always great!"
Max is the event's co-organizer and all around nice guy. In this quick chat, he told us about why this year's KCD is even better than the last one, and how he got the crazy idea to throw a party at a bowling alley.
Marino Wijay from Solo.io
"We're going to see a lot of collaboration between all the vendors that want to jump into the space of Service Mesh"
Marino is a dev advocate at Solo.io, a CNCF Ambassador, and a speaker at the event. We talked about Istio's graduated project status, Ambient Mesh, and how the next iteration of service mesh will disrupt the way we do cloud-native.
Viktor Farcic from Upbound
"Kubernetes will disappear. It must"
Viktor is a man who needs no introduction. It's always fun chatting with Viktor and hearing his genuine unfiltered remarks on everything from control planes to the future of Kubernetes.
Sebastian Kister from Audi
"Scaling infrastructure for 6,600 applications"
Sebastian is an ex-dj, a maker of spirits, and the head of Audi's Kubernetes Competetancy Center. Every conversation with him is a mine of quatable gems.
Rotem Refael from ARMO
"Developers should know what they are getting into"
Rotem discussing ARMO's open-source project Kubescape, that got accepted as a sandbox project, identifying CVEs while minimaizing the noise.
It may be hard to tell from the video but Rotem is expecting a baby soon and we wish her a succesful deployment!
Ali Salman from Kubermatic
"Kubernetes + developers = headache"
Ali shared his perspective as a vendor attending the event to learn about the communities painpoints and offering Kubermatic's solution. Don't miss Sebastian's answer to the "K8s+devs" equation, at the end 🙂
Sven Patrick Meir from Team Paralax
"There is no black magic behind CI/CD"
Sven also spoke at the event, and his mission in life is to demistify CI/CD and help developers understand and operate pipelines that they traditionaly weren't allowed to touch.
Lian Li from Loft Labs
"Maybe all technical problems are humans problems in the end"
Very wise words from the incredible Lian who delivered not one, but two talks this KCD! Guy and Lian discussed Loft's open-source projects and their approach to problem-solving.
Robert Gutschule from BlueShoe
"They call me Captain Kubernetes"
Robert is one of the most enthusiastic K8s fans we've ever met! Besides sharing his knowledge with the community, he is also a hang-drum player which is ironic since his surname literaly means "God-Bowl".
Tim Mamo from DigitalOcean
"Support the community!"
Tim shared his favorite talks at KCD Munich, and what he learned from them. The intersection between humans and technology seems to be his sweet spot.
Katharina Sick from Dynatrace
"Hopefully I'll get better at bowling next time"
Kathrina shared her amazing journey from a mobile developer to a DevOps and Platform Engineer. We also touched upon some of the challenges Katharina's team is facing around cloud-native tooling.